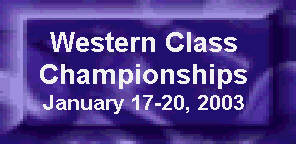 The first major tournament of the year saw 218 players compete in seven sections at the Furama Hotel in Marina del Rey.
Taking first place in the 38-player Master section was IM Enrico Sevillano of Las Vegas with 5½-½. His score included wins over GM Pavel Blatny and IM Igor Ivanov. Next at 5-2 were Blatny, Ivanov, GM Alek Wojtkiewicz, and IMs Tim Talor and Melikset Khachiyan. A strong field!
Other section winners included Uri Andrews and Vanessa West (X), Gevorg Vardanyan (A), Daniel Alvira, David Ayvazyan and Tony Phillips (B), John Rolston, Nino Solis and Chris Wonnell (C), Matthew Hernandez (D), and Joshua Gutman and Christian Tanaka (E).
Bill Goichberg directed for the CCA, with the aasistance of Randy Hough, Brenda Goichberg and Michael Purcell.
Complete crosstables may be found at http://www.chesstour.com/wcc03r.htm.

---

Blatny, P - Sevillano, E
Western Class Championships, Los Angeles 2003
A01 BIRD'S OPENING
1. b3 d5 2. Bb2 Nf6 3. e3 c6 4. f4 Bg4 5. Qc1 h5 6. h3 Bf5 7. g3 Be4 8. Rh2 Nbd7 9. d3 Bg6 10. Nf3 e6 11. Nbd2 Qc7 12. Re2 Nc5 13. Ne5 Bh7 14. Ndf3 Nfd7 15. Nxd7 Qxd7 16. Bc3 f6 17. Qd2 Qc7 18. Rf2 Bd6 19. Qd1 0-0-0 20. b4 Nd7 21. Nd4 Rde8 22. Qxh5 e5 23. Nf5 Bxf5 24. Qxf5 d4 25. Bb2 dxe3 26. Rf3 exf4 27. gxf4 Bxb4+ 28. Ke2 Bd6 29. Bd4 Rh4 30. Rxe3 Rxe3+ 31. Bxe3 Bxf4 32. Bf2 Bg3 33. Be3 Qe5 34. Qxe5 Bxe5 35. Rd1 Ra4 36. d4 Bc7 37. Kf3 Rxa2 38. Bd3 g5 39. Rg1 Ra5 40. h4 gxh4 41. Rg8+ Bd8 42. Bf4 h3 43. Rh8 Rd5 44. Bf1 Rxd4 45. Bxh3 b5 46. Ke3 Rd5 47. c3 f5 48. Bg2 Nb6 49. Ke2 Kd7 50. Rh6 Be7 51. Bxd5 Nxd5 52. Be5 a5 53. Kd3 Nb6 54. Bf6 Bd6 55. Rh7+ Ke6 56. Rh6 Nc4 57. Bg7+ Kd5 58. Rf6 f4 59. Rf5+ Ke6 60. Rh5 a4 61. Ke4 a3 62. Rh2 c5 63. Bh8 Kd7 64. Kd3 Kc6 65. Kc2 f3 66. Rh1 Bf4 67. Kd3 Nd2 68. Be5 Bxe5 69. Kxd2 b4 70. Kc2 Bxc3 71. Kb3 f2 72. Rf1 Bd4 0-1

Tate, E - Khachiyan, E
Western Class Championships, Los Angeles 2003
C26 VIENNA GAME
1. e4 e5 2. Nc3 Nf6 3. g3 d5 4. exd5 Nxd5 5. Qe2 Nc6 6. Bg2 Ndb4 7. Bxc6+ Nxc6 8. Nf3 Be7 9. h3 Nd4 10. Qd1 b6 11. Nxd4 exd4 12. Ne2 Bb7 13. 0-0 Qd7 14. Kh2 Bf3 15. Qe1 h5 16. Ng1 Bb7 17. f3 0-0-0 18. d3 g5 19. a4 h4 20. g4 f5 21. gxf5 Bd6+ 22. Kh1 Qxf5 23. Qf2 g4 24. hxg4 Qxg4 25. Qg2 Qxg2+ 26. Kxg2 h3+ 27. Kh1 Rde8 0-1

Khachiyan, M - Graham, N
Western Class Championships, Los Angeles 2003
A08 KING'S INDiAN ATTACK
1. e4 c5 2. Nf3 e6 3. d3 d5 4. Nbd2 Nc6 5. g3 Nf6 6. Bg2 Be7 7. 0-0 e5 8. Qe2 d4 9. Nc4 Nd7 10. Nh4 b5 11. Nf5 bxc4 12. Nxg7+ Kf8 13. Bh6 Qb6 14. f4 cxd3 15. cxd3 Nb4 16. Nf5+ Ke8 17. fxe5 Nf8 18. Nd6+ Bxd6 19. exd6 Be6 20. e5 Rb8 21. Rf6 c4 22. Bxf8 Rxf8 23. Rxe6+ fxe6 24. Qh5+ Rf7 25. Rf1 Rbb7 26. Bxb7 Qxb7 27. Rxf7 1-0

Abrahamyan, T - Moussa, A
Western Class Championships, Los Angeles 2003
B17 CARO-KANN DEFENSE
1. e4 c6 2. d4 d5 3. Nc3 dxe4 4. Nxe4 Nd7 5. Bd3 Ngf6 6. Nf3 Nxe4 7. Bxe4 Nf6 8. Bd3 Bg4 9. c3 Bxf3 10. Qxf3 Qd5 11. Qxd5 Nxd5 12. 0-0 e6 13. a3 Be7 14. Bd2 0-0 15. c4 Nb6 16. Bc3 Rfd8 17. Rfd1 Bf6 18. Rac1 Rd7 19. Rc2 Rad8 20. Rcd2 g6 21. Be2 Bg5 22. Rd3 Na4 23. Bf3 Nc5 24. Ba5 b6 25. dxc5 Rxd3 26. Rxd3 Rxd3 27. cxb6 axb6 28. Bxb6 Bc1 29. Kf1 Bxb2 30. a4 Bd4 31. a5 Bxb6 32. axb6 c5 33. b7 Rd8 34. Ke2 Kf8 35. Ke3 Ke7 36. Kf4 f6 37. g4 g5+ 38. Ke3 Kd6 39. Be4 Kc7 40. f4 h6 41. f5 e5 42. Bd5 Rd6 43. Ke4 Rb6 0-1

Ivanov, I - Saidy, A
Western Class Championships, Los Angeles 2003
A30 ENGLISH OPENING, Symmetrical Variation
1. c4 c5 2. Nf3 Nf6 3. b3 g6 4. Bb2 Bg7 5. g3 b6 6. Bg2 Bb7 7. 0-0 0-0 8. Nc3 d5 9. Nxd5 Nxd5 10. Bxg7 Kxg7 11. cxd5 Qxd5 12. d4 Na6 13. e4 Qd6 14. d5 e6 15. dxe6 Qxe6 16. Ng5 Qe7 17. f4 h6 18. Nh3 Rad8 19. Qg4 Rd2 20. Rf2 Rxf2 21. Nxf2 Rd8 22. h4 h5 23. Qe2 Nb4 24. a3 Nc6 25. b4 cxb4 26. Qb2+ Rd4 27. axb4 Qxb4 28. Qxb4 Rxb4 29. e5 Rb3 30. Kh2 a6 31. Rc1 Nd8 32. e6 Re3 33. Bxb7 Nxb7 34. Rc7 Nd6 35. exf7 Nxf7 36. Nh3 Re2+ 37. Kg1 Kf6 38. f5 Ne5 39. Nf4 Re4 40. fxg6 Rxf4 41. gxf4 Nxg6 42. Kf2 Nxh4 43. Ra7 Kf5 44. Kg3 Ng6 45. Rf7+ Ke6 46. Rh7 h4+ 47. Kg4 Kd5 48. Rh6 Nxf4 49. Kxf4 b5 50. Ke3 Kc4 51. Kd2 Kb3 52. Rxa6 b4 53. Kc1 1-0

Bishop, A - Young, B
Western Class Championships, Los Angeles 2003
B35 SICILIAN DEFENSE, Dragon Variation
1. e4 c5 2. Nf3 Nc6 3. Nc3 g6 4. d4 cxd4 5. Nxd4 Bg7 6. Be3 Nf6 7. Bc4 Qa5 8. 0-0 0-0 9. Nb3 Qd8 10. h3 a5 11. a4 d6 12. f4 Bd7 13. Qe2 Nb4 14. Rad1 Qc8 15. Rd2 Bc6 16. Bb6 Be8 17. Bb5 Nc6 18. e5 dxe5 19. fxe5 Nd7 20. Nd5 Ndxe5 21. Nxa5 e6 22. Bxc6 Nxc6 23. Nxc6 1-0

Saidy, A - Zhe Quan
Western Class Championships, Los Angeles 2003
E68 KING'S INDIAN DEFENSE, Fianchetto Variation
1. d4 Nf6 2. c4 g6 3. g3 Bg7 4. Bg2 0-0 5. Nc3 d6 6. Nf3 Nbd7 7. 0-0 e5 8. e4 c6 9. Re1 Qc7 10. h3 b6 11. Be3 Bb7 12. Qc2 exd4 13. Nxd4 Rfe8 14. Rad1 Rad8 15. f4 a6 16. Bf2 c5 17. Nde2 Re7 18. g4 h6 19. Ng3 Qc6 20. Bh1 Qc7 21. Re2 Bf8 22. Red2 Re6 23. a4 Rde8 24. b3 Qb8 25. Re2 Qa8 26. Rde1 Bg7 27. Qd2 Bf8 28. a5 bxa5 29. Nd5 Qb8 30. e5 Nxd5 31. cxd5 R6e7 32. Ne4 dxe5 33. d6 Re6 34. f5 gxf5 35. gxf5 Bxe4 36. fxe6 Bxh1 37. exd7 Qa8 38. Bh4 1-0

Taylor, T - Rensch, D
Western Class Champion- ships, Los Angeles 2003
E31 NIMZO-INDIAN DEFENSE, Leningrad Variation
1. d4 Nf6 2. c4 e6 3. Nc3 Bb4 4. Bg5 h6 5. Bh4 c5 6. d5 d6 7. e3 e5 8. f3 Nbd7 9. Bd3 g5 10. Bg3 Bxc3+ 11. bxc3 Qe7 12. Qc2 Rg8 13. Ne2 b5 14. cxb5 Nxd5 15. Be4 N7f6 16. Bf2 Nxe4 17. Qxe4 Bb7 18. Qd3 Nc7 19. Ng3 0-0-0 20. a4 d5 21. 0-0 Qe6 22. a5 e4 23. fxe4 dxe4 24. Qb1 f5 25. b6 Na6 26. Nxf5 Qxf5 27. Bg3 Qe6 28. bxa7 Rgf8 29. Rxf8 Rxf8 30. Qb5 Qc6 31. Qe2 c4 32. Rb1 Qc5 33. Rb6 Nc7 34. Bd6 Qxa5 35. Qb2 Rd8 36. Rxb7 Rxd6 37. Rxc7+ Kxc7 38. Qb8+ Kd7 39. a8Q 1-0

Moussa, A - Taylor, T
Western Class Championships, Los Angeles 2003
D40 QUEEN'S GAMBIT DECLINED, Tarrasch Defense
1. d4 d5 2. Nf3 Nf6 3. c4 e6 4. Nc3 c5 5. e3 a6 6. cxd5 exd5 7. Bd3 Nc6 8. 0-0 Bg4 9. Re1 Be7 10. dxc5 Bxc5 11. e4 0-0 12. e5 Nd7 13. Bf4 Re8 14. h3 Bxf3 15. Qxf3 d4 16. e6 Rxe6 17. Rxe6 fxe6 18. Qh5 Nf6 19. Qxc5 dxc3 20. Bc4 cxb2 21. Rb1 Nd5 22. Bd2 Rc8 23. Qa3 Ne5 24. Bf1 Nb6 25. Bc3 Nbc4 26. Qb4 b5 27. Bxe5 Nxe5 28. Qxb2 Qf6 29. Qb3 Nc4 30. Re1 h6 31. Qd3 Rd8 32. Qe4 Rd2 33. Qb7 Qxf2+ 0-1

Landaw, J - Furman, L
Western Class Championships, Los Angeles 2003
C02 FRENCH DEFENSE, Advance Variation
1. e4 e6 2. d4 d5 3. e5 c5 4. c3 Nc6 5. Nf3 Qb6 6. Bd3 cxd4 7. cxd4 Bd7 8. 0-0 Nge7 9. Nc3 Nc8 10. a3 Be7 11. Be3 0-0 12. Na4 Qd8 13. Rc1 Nb6 14. Nc5 Na5 15. Nd2 Bc6 16. Qg4 Kh8 17. f4 Nac4 18. Rf3 g6 19. Rh3 Rg8 20. Nxc4 dxc4 21. f5 21. ... Bxg2 22. Rxh7+ Kxh7 23. fxg6+ fxg6 24. Qh5+ Kg7 25. Qxg6+ 1-0



-